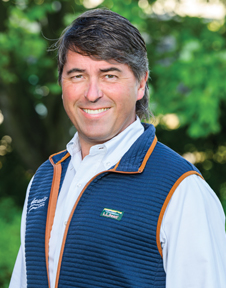 Edward Anewalt, IV, President
There is no doubt that Anewalt's Landscape Contracting has grown to its extensive size and network of loyal residential and commercial clients through Eddie's supervision, work ethic, and guidance.
Eddie is both our President and Founder.  His career in landscaping has its roots in ten-year-old Eddie's responsibility for cutting his grandparents' lawn, a business that blossomed to include maintaining neighbors' properties too.
The inspiration, coaching, and support given by Eddie's grandfather, Edward F. Anewalt, Jr., helped the young business owner navigate the journey to open Anewalt's Landscape Contracting in 1988.
With its humble beginnings in his parents' barn on Route 183, Eddie continued to expand his business while he attended Penn State Berks to earn his degree in Landscape Contracting, a goal he and his wife, Lori, considered a vital aspect of Anewalt's.  Eddie graduated with his Bachelor of Science degree in 1998, despite multiple two-hour commutes every week to Penn State's main campus, supported by Lori's ongoing encouragement as a fellow Penn State graduate.
Eddie and Lori purchased Anewalt's location in Bernville, the previous Delong's Garden Center, to accommodate the growing business and consolidated their two locations into one in 2003.
Although Eddie loves landscaping, he enjoys spending family time with Lori and their children, Lucia and Cisco, whether they are hiking, traveling, or skiing together.  And for something completely different, Eddie continues his passion as an avid motocross racer, competing in District 6 races.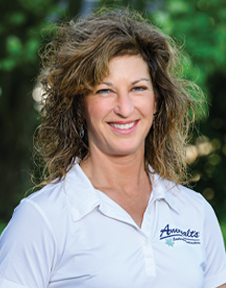 Lori Anewalt, Vice President
"Whatever you work at, do it with all your heart as if working for God and not man," is an inspiration for Lori as we know she puts her heart into every hour of her days.
Lori and Eddie Anewalt were married on Groundhog Day in 1996, and Lori grew her love of landscaping during their early years together by joining Eddie and his crew cutting grass, plowing snow, building decks, and maintaining properties.
No stranger to the outdoors and business ownership, Lori's business skills, work ethics, and love of plants stem from her family, the owners and operators of Clover Hill Winery.
A Spanish teacher by trade, Lori spent two decades teaching Spanish in Berks County Schools and she remains passionate about the Spanish language during her days with Team Anewalt's.
Lori's work at Anewalt's continued to evolve as her strong people skills, expertise in Spanish-English translation, and the team spirit inspired by her upbringing led her to take on roles in public relations, human resources, financial oversite, and customer outreach with her Anewalt's team.
A lover of winter weather, Lori enjoys snow skiing and ice skating, and any time spent with Eddie and their bilingual children, Lucia and Cisco.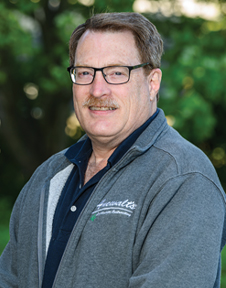 Jeff Thompson (JT), Sales
JT has an amazing 45 years in our industry across the United States, with experience in retail, wholesale, nursery production, and internet nursery sales.
As a long-time friend of Ed and Lori Anewalt, JT will be sharing his expertise with our valued customers as a member of our sales department.  As excited as we are to have him join our team, JT is also looking forward to new adventures with the Anewalts.
Giving JT a solid foundation for his wealth of experience was his degree in Ornamental Horticulture from Delaware Valley College in Doylestown.  This background also allows him to offer his valuable consultation services to the Reading Shade Tree Commission, an organization dedicated to the health and well-being of the trees that create the urban forest in the city.
Of course, JT loves to garden, but he also enjoys coin collecting, and gives back many volunteer hours to his community as a Township Supervisor.
Married for forty years, JT loves spending time with his family and is proud of his daughter who is attending law school at the University of New Hampshire.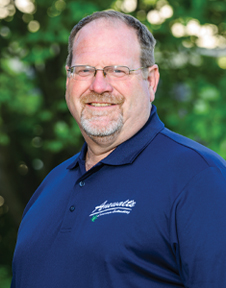 Mike Davis, Operations Manager
Learning about Anewalt's reputation and quality of work during his past years in the business led Mike to seek a career with us.
A wealth of knowledge comes along with Mike who grew up involved in his parents' florist business.  Although Mike did do landscape work for another area company, he also followed in his parents' footsteps by operating his own landscape business for seventeen years.
A graduate of Wilson High School and Alvernia University with a B.A. in business management, Mike is also a NALP – certified horticulture technician, and holds a SIMA – ASM certification and a DOT CDL Class A license.
Mike and his wife, Karen, were married in September 2022 and have five children between them, with one granddaughter.
Great moments for Mike are spent relaxing on his deck, trips to the shore, spending time with his wife and family, and eating seafood.  He enjoys all types of music, depending on his mood that day.
Mike also loves to spend time fishing and playing golf, and enjoys watching football, especially when the Eagles are playing.  He has had the unique experience of both playing and refereeing water polo!
Mike is looking forward to growing with Anewalt's and enjoys interacting with our clients and having new outdoor experiences every day.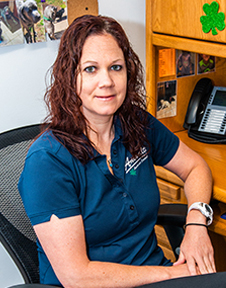 Angela McCloy, Administrative Manager – Celebrating 10 Years!
Angie is inspired by the perfect thought for a landscape business, revolving around the beauty in every season.   "Even if it's not where you want to be," she says, "every season serves a purpose."
Joining the Anewalt's team in 2013 brought Angie a wide range of responsibilities which include payroll, budgets, and accounts payable and receivable.  Her detail-oriented nature combined with her desire to help anywhere she can and always learn new things have given her valuable skills for success.
As a 2002 Penn State graduate with her B.S.  in Business, Angie is proud of all she has accomplished at Anewalt's.
An Exeter resident, Angie loves to spend her time outdoors with her husband, Ryan, Son, Cayan, and daughter, Samantha, as well as with the family's various pets.
Angie is an avid animal lover and appreciates the little things in life.  She understands the importance of believing in each stage of life's journey.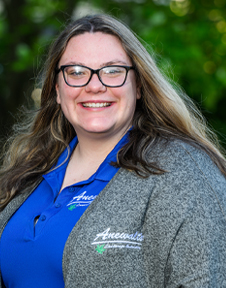 Jenny Ferraiolo, Administrative Assistant
Jenny chose to work with Team Anewalt's because she felt really good vibes during her interview with us and thought it just seemed like she was supposed to join us.
Gaining hands-on business insights at Anewalt's while attending school will be a great benefit in her ongoing career. This additional knowledge will add to the Quick Books experience she already has from supporting her father with fifteen years in his own landscape company.  Jenny is working toward an associate degree in finance and accounting.
Married to her husband, Josh, in December 2022, Jenny has three cats, a dog, and some chickens to care for after her days with Team Anewalt's.
Jenny loves to spend time with her husband and enjoys hunting and fishing.  Cooking is one of her favorite past times and she likes to host dinner parties to share her special dishes.  Jenny's favorite foods are ice cream cake and Chicken Alfredo.
When it comes to music, Jenny chooses to listen to country songs or hip hop from the 2000s.

Mark McAllister, Field Supervisor
Mark was drawn to Anewalt's because of the core values he shares with our company.  He joined our team to be part of a group of like-minded and talented professionals with a reputation for excellence.
Working with a well-organized and established company with a large client list are things that Mark looks forward to in his career with us.
Bringing landscape experience to Anewalt's, Mark worked on a crew for three years and as a crew lead for ten years.  He also has ten years of account management and eleven years of general management experience, plus the benefit of being a business owner for two years.
Mark is a graduate of Wyomissing High School and attended Penn State University.
Married to his wife, Jessica for twelve years, Mark is dad to two children, Samantha and Cameron, and a dog dad to Mr. Puppers.
Of course, Mark loves to spend lots of time outdoors, but also loves being with his family, watching movies, antiquing, and going on historic tours.
Since he enjoys being outdoors, Mark likes everything about summer picnic foods and is also a fan of classic cheeseburgers.  Mark loves food in general and describes himself as a real foodie.
Mark picks football as his favorite sport to watch, but he likes to listen to all types of music.
After making a brave rescue of a woman from a burning building while he was on the job, Mark received a much-deserved commendation by the mayor for his selfless actions.

Blake Byrnes, Lawn Care/Plant Health Supervisor
Career advancement was a key factor in Blake's choice in joining the Anewalt's team and he believed we would provide a work environment where he would feel valued.
Blake is looking forward to all the new people he will meet on the job with us and anticipates learning new things during his work days with the team, but he brings with him thirteen years of lawn and landscape experience and expertise in the green industry.  He has gained a great deal of knowledge during his on-the-job training and learning.
A dad with a five-year-old daughter and a three-month-old baby boy, Blake is engaged to be married and loves spending time with his family.
Although Blake is not too picky about food, he definitely chooses football and baseball as his preferred sports.
He also has a strong opinion about music and enjoys listening to heavy metal and rock.
A little-known fact about Blake is that he was in a metal band singing the music he loves the most.

Ruth Gavin, Administrative Assistant/Receptionist
Ruth loves the bible verse, Philippians 4:13," I can do all things through Christ who strengthens me," and carries that thought through her workdays, always asking the team if anyone needs help before she works on her own tasks for the day.
A valued member of Team Anewalt since 2013, Ruth met Lori Anewalt years earlier when Lori taught Ruth's three daughters at Sacred Heart School.  Ruth began part-time in our office, working a day a week, mainly assisting with filing.  Along the way, Ruth showed her ability to thrive on our team, learning new skills and eventually moving into her full-time position answering phones, preparing estimates, inputting important computer data, and completing a multitude of other tasks around the office.
In her free time, Ruth loves to read and assemble large puzzles, but more than anything, she is passionate about spending time with her family and three grandchildren, a grandson and one-year old twins.
Ruth's focus on teamwork and excellence makes the Anewalt's reception area a welcoming place for everyone.