At Anewalt's Landscape Contracting, we're proud of the work we do in our community! Here are some of our latest projects!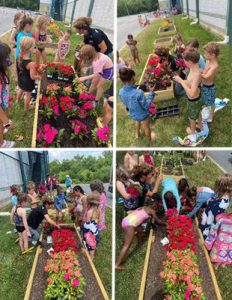 Anewalt's is proud to team up with Body Zone this year!
Anewalt's is proud to team up with Body Zone this year! Body Zone offers a summer program for kids to attend and help stay active while school is out. We are pitching in and donating FIVE raised flower beds filled with plants so children can dig in and learn. Anewalt's is offering beds of annual flowers so students can see how they bloom and the care that is needed to go into them. Beds also have fruit and vegetable plants so they can enjoy the fruit of their labor on a job well done. Lastly, there are some sunflower seeds planted so the children can evaluate the weekly changes.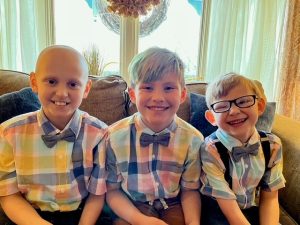 The team on April 22nd brought some beauty back to a yard in Leesport! Every year since 2010, Anewalt's has been celebrating Earth Day by giving back to the community and those in need. This year, Team Anewalt's was sent to Leesport to lift the spirits of an employee's dear friend. They pulled weeds, clean up flower beds, and mulched. Lori and team had the pleasure of meeting an inspiring young family who have overcome more obstacles in 5 years than any family should endure in a lifetime. Drew who helped on the project said, "It was humbling to witness Greg's attitude and appreciation. The entire experience was overwhelmingly gratifying and I was happy that I was able to be a part of it!"
Greg and Ashley Rejniak are native to Berks County and have 3 boys; Riley age 9, Greyson age 7, and Elijah age 5. In April of 2017, Riley was diagnosed with stage 4 neuroblastoma; he was only 4 at the time. They started treatment immediately and by July of 2018 Riley was in remission; though that is not the end of this story. Riley's cancer has come back twice and they continued to fight this battle. As of March 18th 2022, they are happy to announce that Riley is considered disease free for the THIRD TIME, but is still undergoing treatment. As heart wrenching as this story is, this is not the only obstacle this family has gone through. Shortly after Riley's initial diagnosis in 2017, they noticed Elijah was not meeting the milestones a baby should be reaching. This led them down the path of even more doctors and more medical bills which led to the discovery that Elijah suffered from a stroke when he was in the womb, leaving the left half of his brain undeveloped, yielding multiple physical disabilities, and learning delays.
After Lori spoke with Greg about his visions of the yard, she surprised the family with arborvitaes along the back of the property to provide some privacy. Crews continued to spend the day fixing holes in the yard, mowing the grass, and arranging beautiful flower pots for a splash of color. Greg captured it best when he said, "These past few years have been super busy and emotionally exhausting for our family. The very last thing we have been concerned about was our yard. In a few hours, Team Anewalt's transformed it into something incredible; we now have something we are proud of. Thank you to everyone for making our dream into a reality!" The Rejniak family has a long road ahead of them, but Team Anewalt's is proud to know their yard won't be one of them. When speaking with Greg and Ashley, they are very humbled to be the recipient of such a generous gift. They have a positive view on life and will continue their journey with faith in their heart and a smile on their face.
At Anewalt's, we pride ourselves on beautifying Pennsylvania, one yard at a time!