At Anewalt's Landscape Contracting, we're proud of the work we do in our community! Here are some of our latest projects!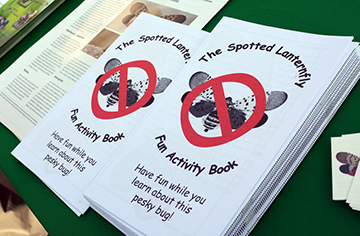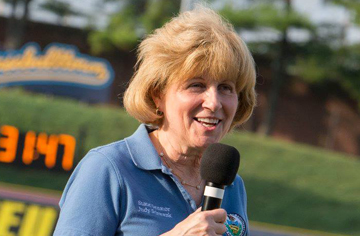 Tuesday, July 23, 2019 : Spotted Lanternfly Night at the Reading Phils
We're back at the Reading Phillies with Clover Hill Vineyards & Winery
Last year, our team, their families, and their friends had a great time at the ballpark! Doug Fisher, our Field Supervisor in Training, attended with his family.
"It was a lot of fun, and a great opportunity for families to enjoy the game," he said. "You also got to learn about the spotted lanternfly and what to look for in your yard."
Ruth Gavin, our Office Assistant, highlighted her experience of the fun as well.
"We came as Team Anewalt's to cheer on our home town Reading Phils. We enjoyed fun with our families, but we also answered questions about what we do at Anewalt's, we were given the opportunity to hold the American flag on the field during the national anthem before the game, and we ate dinner with our own families in the ballpark."
Senator Judy Schwank was on hand to give the crowd an update her initiatives to fight the spotted lanternfly, too! Overall, it was a great time with a fantastic turnout!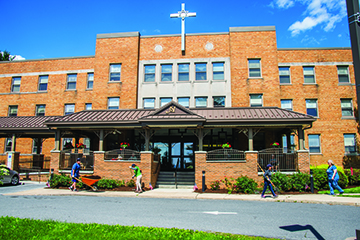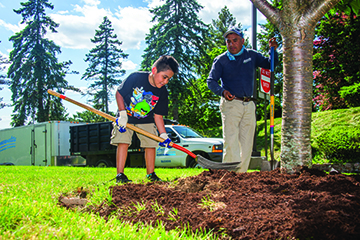 Monday, April 22, 2019 : Earth Day
Making a Difference! Earth Day at Sacred Heart Villa
The blessings of beauty, kindness, friendship, and love were exchanged among the residents and staff of Sacred Heart Villa in Muhlenberg Township, and team members and volunteers of Anewalt's, at our annual Earth Day beautification project on May 24th.
Villa residents, including Olga Skrip, grandmother to our vice-president, Lori Anewalt, and known as GiGi, watched close to thirty Anewalt's team members, ten volunteers, and seven kids weeding, mulching, edging, pruning, and planting their way around the front of the scenic property.
Olga, age 96, moved to Sacred Heart Villa over a year ago from her home in Breinigsville, giving the Anewalt team one very special reason to choose the site for this year's beautification project.
"It gives them great pleasure to do this," Olga said.  "Lori is a beautiful person," added the loving grandmother.
The twenty-acre site, home to 63 senior residents and 16 nuns of the Missionary Sisters of the Sacred Heart, has been maintained by only one groundskeeper, according to the admissions and marketing director, Nicole Adams.
Nicole explains that residents, staff, and visitors will all enjoy the changes brought about on our Earth Day.
"We couldn't have done this without them," she said
With beautification projects of her own at Sacred Heart Villa, Barb Allison, age 80, has planted a multitude of flowers and plants in pots decorating a patio at the front of the property for everyone's enjoyment.
An avid gardener since living in her home in Reading, Barb considers the Earth Day project a blessing to everyone who visits or lives at the Villa.
"With what they're doing, if you got a bill, it would be a big bill," Barb said.
From seniors to youth, our Earth Day project made an impact on everyone involved.
Joey Skrip, a tenth-grader at Parkland High School, is a new team member at Anewalt's and is considering joining us as an arborist one day.
He said he just felt happy about his work on Earth Day, knowing that many of the seniors have little to do during the day and hoping the landscaping projects will give them added joy with a more beautiful landscape.
And the youngest Anewalt, Cisco, age 8, spent hours planting and pruning, his favorite landscaping task.
Cisco was proud of the changes at the Sacred Heart Villa property.
"It's all kind of nice because this place can stand out for the people who live here," Cisco said.
With a full day starting at 7 a.m., our Earth Day project this year took twenty man hours, eight cubic yards of mulch, plants, lots of small handheld tools, edgers, blowers, weed whackers, and served as the maiden voyage of a special pink wheelbarrow dedicated to Jerry Yoder, the long-time business manager of Sacred Heart Roman Catholic Church in West Reading.
We lost Jerry after his short time living at Sacred Heart Villa, and he is greatly missed as a near and dear friend of our family.
From Lori Anewalt:
"Each year Eddie and I choose a location near and dear to our hearts to beautify. This year, we chose the Sacred Heart Villa because my grandmother has been residing there since March of 2018. Our hope was to brighten the Villa with our landscaping and to bring some joy to the residents' day!"
At Anewalt's, we pride ourselves on beautifying Pennsylvania, one yard at a time!