Help Save the Butterflies this Fall
Butterflies… They can be symbols of love, freedom, and transformation, or remind us of the spirit of a lost loved one. Butterflies bring joy to our hearts and beautiful colors to our outdoor spaces.
Sadly, many butterflies are endangered because of both urban sprawl and the increased development of the agriculture industry. Monarch butterflies alone lose a shocking 2.2 million acres of habitat land every year because of industrial, commercial, and residential building, and a frightening 90-percent of their habitats in the agricultural landscape.
So, how can you help?
In the past, a flower bed filled with traditional annuals was known to have butterfly visitors, but today, these endangered beauties need even more support to continue to thrive.
Butterfly gardens are specific spots devoted to all the things that encourage the health and breeding of butterflies, and the experts at Anewalt's Landscape created the perfect example at their Bernville Workspace & Studio.
Anewalt's certified Monarch Waystation, professionally designed for both beauty and to fit the criteria required for a Waystation certification, does even more than offer commonly helpful milkweed and nectar sources to Monarchs and other butterflies.
Come visit Anewalt's!
A visit to the Anewalt's Monarch Waystation will surround and inspire you with types of perennials Monarchs particularly love, like the Agastache "Blue Fortune" or Hyssop, a three-foot-tall beauty with soft, lavender blue flowers, and a minty licorice scent that attracts both Monarchs and other butterfly visitors. Only about a foot tall, Monarda "Balmy Purple" or Bee Balm, sports round purple flowers which fascinate butterflies and their welcome friends, the hummingbirds, and other pollinators. Another lovely addition to the Waystation is Liatris "Kobold" or Blazing Star, a two-foot-tall perennial with spikes of fluffy purple flower heads that seem to float over a leafy stalk.
Bring your family to see the Anewalt's Monarch Waystation and dream of just the right space to place one at home.
How can Anewalt's help?
Fall is the perfect time to plant perennials and a great time to plan a butterfly garden with one of our professional landscape designers if you need some guidance and help with creating the ideal garden.
If you enjoy the experience of our Monarch Waystation, stop in to talk with us about designing a beautiful and tranquil spot to support the butterflies in the outdoor living space of your home or even in your business landscape.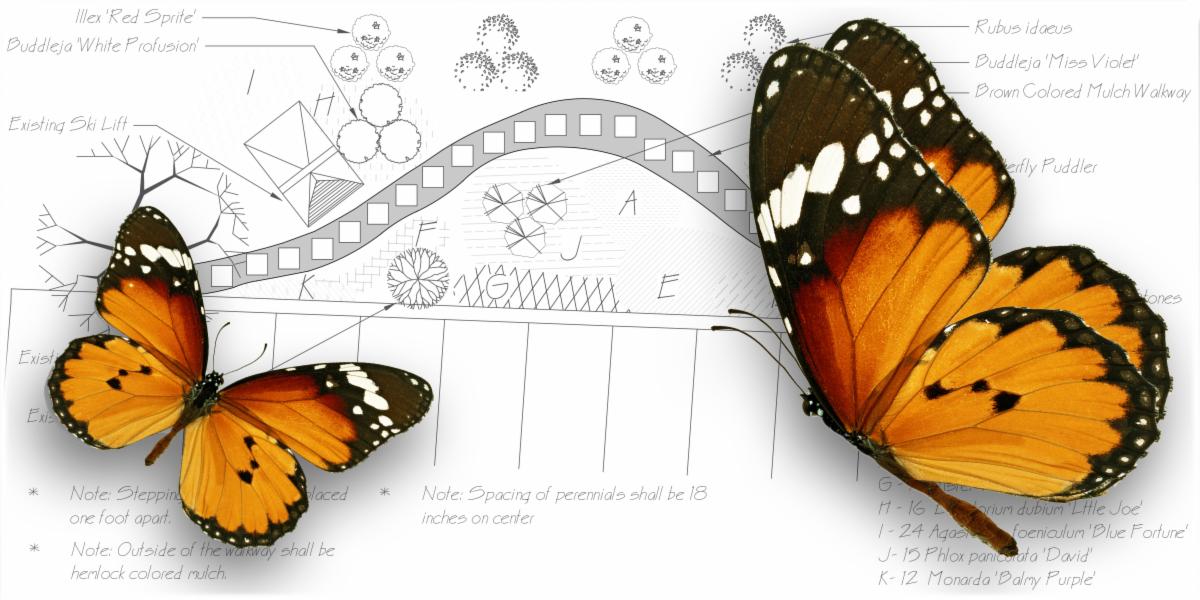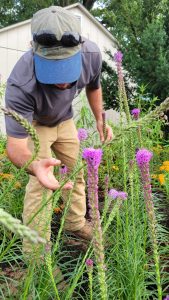 What is required in a certified Monarch Waystation?
1. Size – A Monarch Waystation can be easily incorporated into a garden, but to be a true help to the Monarchs, the waystation should be about 100 square feet which can be split among several sites in the outdoor space.
2. Exposure – Sun is key for butterflies and the perennials they love, so the waystation location should be sure to have at least six hours of sun every day, in a spot with good drainage and low clay soil for the best plant growth.
3. Design – Plants should be grouped somewhat closely, but not overcrowded, to provide the best shelter for the Monarchs and other wildlife. It's best to follow planting instructions for each perennial when designing a Monarch Waystation. Including plants of varied heights makes a beautiful design.
4. Milkweed – At least ten milkweed plants are recommended to encourage the use of a habitat. Choosing milkweeds of different species from those native to the Northeast, for example, common milkweed, swamp milkweed, butterfly milkweed, and poke milkweed, will encourage Monarchs to visit the waystation for a longer time during the breeding season.
5. Nectar Plants – Butterflies and other pollinators need nectar, so planting a mix of annual, biennial, or perennial plants that bloom at various times or all through the season will support your Monarch Waystation into the fall.
6. Management – A waystation will need to have regular maintenance, including soil amendments, water, incorporating natural fertilizer and insecticides, removing invasive plants, and continuing to add Monarch attractants.
Would you enjoy relaxing and unwinding with the majestic flight of Berks County's native butterflies? Do you want to create a positive impact for monarch habitats? Consider bringing Monarch Waystation to your own amazing outdoor landscape. We are ready to design and install one to compliment your landscape.
For more information and to certify your own Monarch Waystation, go to Monarch Watch Monarch Waystation Program.