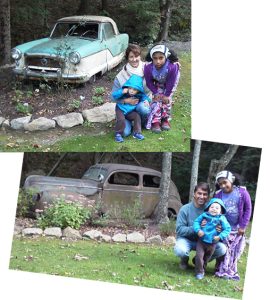 At Anewalt's Landscape Contracting, we believe a random moment of beauty can bring joy to the day.  And our passion to bring joy through beautifying the outdoors led us to create the Anewalt's carscape, a moment of all-season beauty along Route 183 in Bernville.
Honoring our family legacies is always close to our hearts, and our carscape is not only a tribute to Lori Anewalt's father, John Skrip, Jr., but also a special way to intertwine the Anewalts' family business with the Skrips' family business, Clover Hill Winery.
Lori was inspired to find a special antique car to place on the Bernville property after enjoying family adventures at Blue Rocks Campground in Lenhartsville, where two antique vehicles were a fun highlight to the wooded property.  Lori named them "carscapes" and the seeds for the Anewalt's carscape were sown.
Always a lover and a collector of antique cars, John Skrip, Jr. was helping Lori in her search, and Lori ended up locating the perfect star of the landscape, a 1952 Ford pickup which was placed on the Route 183 property by the Anewalt billboard.
In a heartbreaking turn of events, John passed away shortly after the truck found its new home in 2020, never having seen it on site.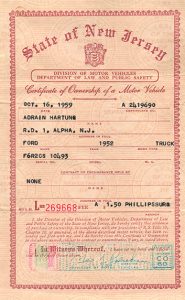 Since its inception, the carscape has given everyone traveling Route 183 random moments of beauty, as inspired by the legacy of John Skrip, Jr. and the appreciation of history and the great outdoors he instilled in Lori.
Every season the carscape brings a new gift to everyone who passes.  The blessings of spring are born in a magnificent tulip display blooming around the carscape.  The colors of summer come with an everchanging rainbow of flowers and patriotic notes to delight young and old alike.  Vibrant fall hues arrive in autumn with pumpkins, corn shocks, and glorious mums in the amazing shades of the season.  And wintertime peace and tranquility appear with a lit nativity scene gracing the base of our immense sycamore tree, towering almost seventy feet and covered with 221 strands of lights for every season.
Our families are a treasure to us, and we weave the Anewalt and Skrip families together in our carscape.
Vitex trees, the species symbolized in the Anewalt's logo, are planted by the carscape, and Clover Hill Winery grapevines are taking root below our billboard, growing upward to grace the scene with grapes as they mature.
All of us at Anewalt's Landscape Contracting offer you the gift of beauty as you travel past our carscape and hope it inspires you to create beauty and moments of joy in your own backyard.
View our carscape gallery by moving your mouse over the image and using the arrows in the image to move right and left!