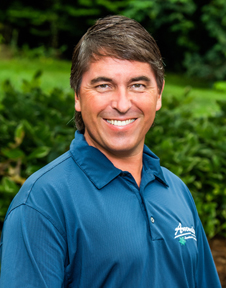 Edward Anewalt, IV, President
Edward Anewalt, I.V., aka Eddie, is the president of Anewalt's Landscape Contracting. Eddie began in the landscaping industry at the ripe age of 10 years old! His first independent business revolved around cutting his grandparents' lawn, which later included maintaining his neighbors' lawns as well. Eddie's greatest influence as a child was his grandfather, Edward F. Anewalt, Jr., who inspired, coached, and believed in young Eddie Anewalt. His grandfather's support led to the founding of Anewalt's Landscape Contracting in 1988.
The business began in his parent's barn on route 183, and continued to expand as years passed. While the business was growing, Eddie was also attending school part-time at Penn State Berks to earn a degree in Landscape Contracting. It wasn't until he wanted to offer more services within the business that he realized how integral a completed degree would be to Anewalt's Landscape Contracting as a whole. Eddie's wife, Lori, a 1994 Penn State graduate, encouraged him to complete his degree, and after numerous 2+ hour commutes up to three times a week to the Penn State Main Campus, Eddie graduated from Penn State with his Bachelor of Science degree in Landscape contracting in 1998.
The business continued to grow, and Eddie and Lori purchased Delong's Garden Center in Bernville. For two years, Anewalt's operated out of two locations until the business consolidated in 2003 to the Delong's Garden Center location, which is the current location of Anewalt's presently!
The business has grown to its current size and customer base due to Eddie's supervision and guidance, but Eddie still finds time to do things outside of work. Outside of landscaping, Eddie enjoys spending quality time with his wife, Lori, and their beautiful children, Lucia and Cicso. Together, they enjoy hiking, traveling and skiing. Eddie is also an avid motocross racer and competes in District 6 races.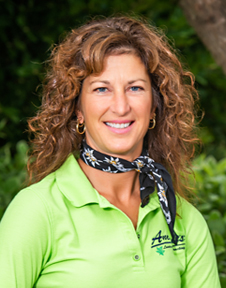 Lori Anewalt, Vice President
Lori and Eddie Anewalt married in 1996 on Groundhog Day. By trade, Lori is a Spanish teacher. In earlier years, Lori worked on a crew, often with Eddie, cutting grass, plowing snow, building decks and maintaining properties. As the years progressed, her role continued to change, moving more in the office, at times answering phones, aiding in Spanish-English translation, and recruiting employees. She drives the public relations and customer outreach in projects such as the newsletter and in community service. Today, Lori works closely to develop her team, grow customer relations, and oversee finances. Her skill set and leadership qualities stem directly from her upbringing. Lori grew up in an entrepreneurial setting; her parents and brother and sister own and operate Clover Hill Winery. Lori is passionate about the Spanish language and spent two decades teaching Spanish in Berks County schools. She and Eddie have two wonderful children, Lucia and Cisco, both raised bilingually. She favors the cold winter months and winter sports such as skiing and ice skating. "Whatever you work at, do it with all your heart as if working for God and not man."
Chilo Rangel, Operation's Manager
Chilo has been a part of our team for over a decade! He started his time at Anewalt's as our Crew Leader, and held that position for almost 8 years. He then moved into a Supervisor role for the next 3 years until recently, earning the position of Operations Manager in 2018! In his new position, he schedules the work crews and jobs daily, he completes quality control visits to various locations, which he loves because of working with and meeting new people on the go, and he also focuses on coaching our team in completing excellent work. He aims to develop and coach our team in all that they do, aiming for excellence both inside of and outside of the workplace to positively influence their lives and those that they meet.
"Proper preparation prevents poor performance"
Outside of work, Chilo loves to complete his own home enhancements, travel to and visit new places, and spend time with his family.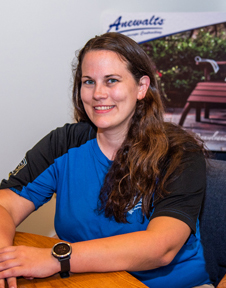 Kelly Nicodemus
Kelly has been with Anewalt's for over a decade! She is a Holy Name graduate, received undergraduate degrees in both English Literature and Women in Gender Studies in 2011 from Albright College, and earned her MA in English Literature in 2013 from Westchester University. Right before she entered high school, she began as a part-time employee working under Jim, our current Plant Health Care Specialist, in the nursery and installing plants at Sacred Heart. From there, she progressed through different positions within the company, showing her versatility! After her work in the nursery, she became an editor for the company until she later helped in the office. After, she became office manager, and then she ascended to her current position as General Manager.
Her duties are numerous. Kelly typically begins the day with the crews in the crew room, and she leads office processes, customer service, and Human Resources as it relates to talent retention and acquisition. To top it off, she also oversees all full-service contracts and renewals, and facilitates the lights and winter décor projects.
With all her responsibilities, she finds time to coach women's volleyball at Alvernia University, where she has been the head coach since 2015. She also enjoys taking care of her blueberry plants, writing and caring for her two cats.
Kelly's main goal for the company is to see a re-envisioned employee development plan and employee benefits package to achieve a balance between team members' professional goals and home life.
Kelly notes, "After I finished my graduate degree, Lori asked me what I wanted. I answered that I like challenges, and Lori has since then, given me over 11 years of challenges, but has kept a smile on my face every day."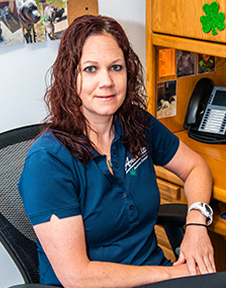 Angela McCloy, Administrative Assistant
Angela McCloy, Administrative Assistant Angie joined the Anewalt's Team in April of 2013. She has a plethora of responsibilities including Payroll, Budgets, Accounts Payable and Accounts Receivable. She is detail oriented with an urge to help out and learn whatever she can. A Penn State Graduate, Angie earned her BS in Business in 2002. She is most proud of many diverse learning experiences that she was able to partake in during her tenure working at Anewalt's because she learned many valuable skills.
Angie currently lives in Exeter with her husband, Ryan, son Cavan, and daughter Samantha. Being the animal lover she is, her family also consists of various animals.
Although, Angie spends her time in the office at Anewalt's, she loves to spend her free time outdoors with her family and dogs.
Angie appreciates the little things in life and embodies appreciating where you are in your journey. "Even if it's not where you want to be," she says, "every season serves a purpose."

Philip S. Forsythe, Account Manager
Phil is a new and energetic addition to the Anewalt's Team! He is a native Berks County resident who has lived in the area since he was 7 years old and attended Wilson High School.
Before he started with us, Phil worked for 11 years in the paver industry, an industry that partners closely with us during hardscape projects like building pools, patios, walkways, retaining walls, etc. After years working with pavers, Phil has found his favorite paver is the E.P. Henry Bristol Stone. He recommends it for anyone wanting to capture a nice look that pops when spread throughout a patio. Phil credits his expertise from hands-on experiences and working closely with other professionals. The skills he possesses compliment what we do at Anewalt's in an amazing way. His knowledge of the hardscape industry and the finer details of the materials we use daily will only benefit our hardscape teams and better inform our customers of their options.
As an Account Manager here at Anewalt's, Phil's duties will involve customer service assurance, site visitations, and working with the different clients to address landscape needs and seasonal upkeep. Phil is most excited to expand his knowledge about "soft" materials and learn about plant life.
Phil believes in always having a positive outlook on life and working hard. He lives by the quote:
"The reason we fall down is so that we can learn to pick ourselves back up."
In his free time, Phil's favorite hobby is to play billiards. He enjoys watching movies, especially "B" Horror films, and hanging out with his four pets. He has a dog, a tortoise, a boa constrictor and a corn snake.

James Meyer, Landscape Design and Account Associate
James is a newer member to Anewalt's, but has become an integral team member! He received his B.S. in Landscape Contracting with a focus in Design Build from Penn State University in May 2018. We are… PENN STATE!
He currently works on unique landscape designs for customers, completes job proposals, presents final job presentations to clients, and conducts site visits.
As a landscape designer, James' passion lies in improving the client's landscape and life. He aims to create beautiful, unique and functional designs tailored to each client.
In his free time, James enjoys an active lifestyle, especially things that can be done outside, but he also enjoys woodworking and spending time with his dog, Winston.
James is a prime example of a hard worker and relates to the quote "Water carves through stone, not because of power, but because of perseverance" due to his work ethic and ability to overcome obstacles in his path.

Ruth Gavin, Office Assistant
Ruth has been a part of Team Anewalt since October of 2013! She has known Lori Anewalt for a decade, first meeting in Sacred Heart School, where Lori taught her three daughters. However, Ruth began as a part time team member with Anewalt's years later, working only one day a week, and mainly assisted with filing work. She progressed over the years to working more than once a week, where she became dexterous on the computer, showing her ability to adapt and learn new skills! Currently, Ruth works full time and is responsible for answering the phones, preparing estimates, and inputting important information into the computer, as well as any odds-and-end things around the office.
Ruth focuses on teamwork. Each day, she asks her coworkers if there is anything that they would like help completing before she moves to complete her tasks for the day in order to help the office run as smoothly as possible. If she becomes overwhelmed, she always remembers Philippians 4:13, I can do all things through Christ who strengthens me.
In Ruth's free time, she enjoys reading and working on large puzzles, but most of all, she loves spending time with her family.

Top Banner Photo: Gate designed and fabricated by Greg Leavitt.